The Kiwanis Club of Te Awamutu presents:
Our Town:
Te Awamutu
---
Location & Population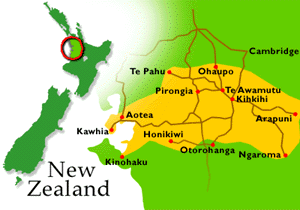 On the main trunk railway and State Highway 3. Hamilton is 29 km (18 miles) to the north and Cambridge 22 km (14 miles) to the east. Mount Pirongia is 16 km west beyond Pirongia township which is 13 km (8 miles) distant. Hamilton Airport is 12 miles NE and Auckland 100 miles north. Te Awamutu's population today is estimated at 8,500 with almost 2,000 people living in Kihikihi. The estimated surrounding population in a 16 km (10 miles) radius is 30,000. (Map courtesy of Te Awamutu Courier.)


Historical
(Historical text courtesy of the Te Awamutu Community Public Relations.)
Maori people of the area are descendants of the Tainui canoe settlers. At Kawhia, 64 km (40 miles) West, two stones mark the bow and stem of the historic buried canoe. In the nineteenth century the Te Awamutu area had a heavy Maori population. They constructed defensive pa sites in loops of rivers and on steep hilltops with good vantage points. Evidence of many can still be seen.
Rev. B. Y. Ashwell visited the Otawhao Pa in 1839 and then in 1841 Rev. John Morgan, who established the Otawhao mission, built a school, introduced English methods of agriculture and taught Maori the skills of budding, grafting, growing wheat and milling their own flour. The mission and the school were closed by the resident magistrate, John Gorst, at the outset of the Land Wars in 1863 and were never reopened. From that time the settlement was known as Te Awamutu meaning "end of the river." Visitors to the town's famed rose gardens cross Gorst Avenue to Selwyn Park (the site of the mission), then view historic St. Johns church - the third church built by the Otawhao mission in 1854, and still in use today.
Other mission centers nearby were Rangiawohia, both Anglican and Roman Catholic (6 km, 4 miles from Te Awamutu), and the Methodist Te Kopua (16 km, 10 miles away on the Walpa River).
During the New Zealand Land Wars Te Awamutu was a center for government forces. General Cameron's HQ was at Te Rore, north of Pirongia (Alexandra in those days). He decided to by-pass the very strong pa built at Paterangi and capture the Maori's main food supply area at Rangiawohia. Moving at night his forces left the road and moved across country to Te Awamutu, arriving before daylight. Orakau Pa was hastily built and gallantly defended by some 300 Maori against 2000 imperial forces for three days. After Orakau up to 4000 imperial and colonial troops were stationed at Te Awamutu. Block houses were built at strategic points for settler defences since from time to time there were scares of Maori raids from the "King Country" a few miles south. The voluntary laying down of arms by King Tawhiao at Alexandra (Pirongia) ended the Waikato Land Wars in 1881.
In 1885 the railway continued beyond Te Awamutu into the King Country and eventually right through to Wellington. Dairying began to replace wheat growing with Te Awamutu becoming a farming service center and stock auction venue. Today the area has widely diversified into many areas of agriculture including beef, cattle, sheep, deer, horticulture and egg production.
Projects around town in which Kiwanis has been involved:
In cooperation with the Waipa District Council, The Kiwanis Club of Te Awamutu built a board walkway and a viewing platform into this unique stand of Kahikatea trees (a New Zealand native podocarp). This project stretched over numerous weekends during several months.

Ngaroto is a peat lake which serves the Te Awamutu area as both a recreational area and a natural marsh wildlife sanctuary. In cooperation with the Waipa District Council, The Kiwanis Club of Te Awamutu built a board walkway through the marsh at the upper end of Lake Ngaroto. This will be part of a recreational and nature walk that the Council is developing to go entirely around the lake.
Other Links about Te Awamutu
Our local government.
Learn what it is like to go to high school in Te Awamutu.
Te Awamutu has an excellent museum, the oldest museum in the Waikato region. Their website includes a more detailed discription of the history of the Te Awamutu area.
Read all about it!
More information about Te Awamutu:
Return to the Kiwanis Club of Te Awamutu Home Page.
---
Page last updated by
webmaster@kiwanis.org.nz (David Fentress)
on 27 June, 2015.
Your comments, questions and suggestions are welcome.