Kiwanis Club of Takapuna
| | |
| --- | --- |
| 2004 District Convention Report | |
---
Nouméa South Pacific 2004 District Convention Highlights
By Patsy Hill - Kiwanis Club of Takapuna
Well, the Nouméa 2004 District Convention has come and gone – just like that, and no doubt those that didn't manage to go are wondering what it was really like.
No doubt details about the "work" and "Kiwanis" related meetings and decisions will start filtering through as the 2004/5 year gets under way, so suffice it to say here that it seemed to be a good Convention – marking achievements, discussing the past, assessing the present and planning for the future.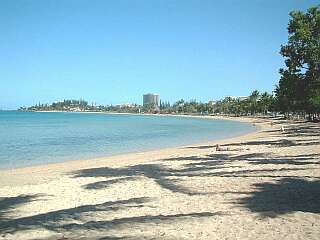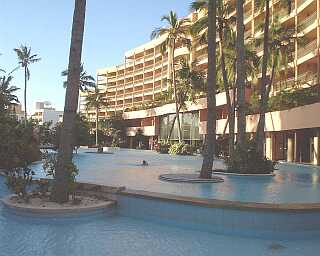 But what of the highlights, which are those special things that make a Convention stand out – and make Kiwanians WANT to attend?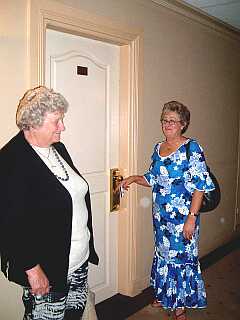 Needless to say, the venue has a lot to do with this - and a venue in Nouméa starts off up front with the lovely location right on Anse Vata Beach, and that superb swimming pool nestled in between the 3 wings of the convention hotel. The facilities were great for the convention – though some members did have a few problems with malfunctioning room keys and a couple of ladies had the misfortune to be locked out for quite a while late one evening through no fault of their own!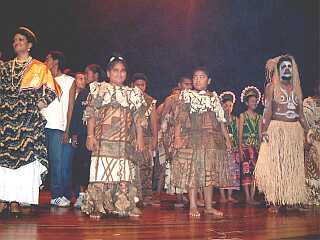 Division 6 made a tremendous job of all the preparations for the Convention. The opening ceremony was hosted by the South Province at their headquarters building and the evening, complete with cocktails, started with singing by a very good gospel choir. The next evening we were entertained to a Cultural Show and dinner at Mont Dore, with wonderful dancing displays by the various different ethnic groups of that municipality (Kanak, Wallis and Futunan, Indonesian, Tahitian, and Réunion and other former French territories). Also an opportunity to try the traditional New Caledonian "bougna" food – not unlike our own hangi in many respects.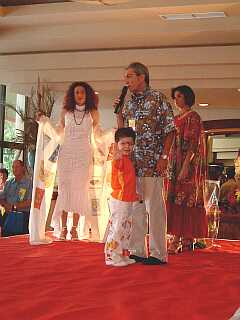 The partners' programme was running alongside the Convention meetings and participants enjoyed a visit to a coffee producer's factory, a silk screen printer and island fashion showroom, as well as visits to the Nouméa museum and the Maritime museum, etc. On Saturday, the Convention and the partners' programme joined together for a short while to watch a great 'Fashion Show' put on by Kiwanians from a couple of Div 6 clubs, assisted by children of their families and friends.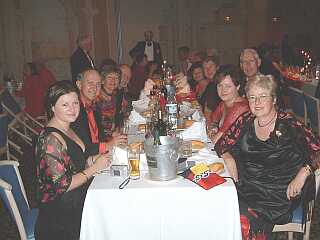 Saturday evening had to be the occasion of the Convention – the MOULIN ROUGE red and black Ball. What a special occasion it was! Everyone seemed to have taken the theme on board – red shirts, black ties and dinner suits, red ballgowns, black ballgowns, - it was quite an impressive sight. Part of the evening saw the introduction of the incoming Governor's team for 2004/5 and the presentation of Griffen awards to members who have made a significant donation to the NZ-SP District Foundation. Then, after dinner it was show time 'Moulin Rouge' style!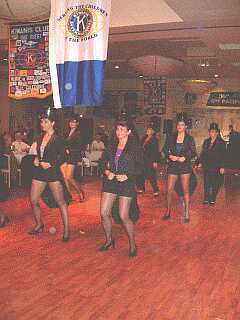 Members of the Kiwanis clubs of Hibbertia and Kenu put their heart and soul into the Can Can and other similar dances, ably led with songs by Nouméa Kiwanian Armelle Lounes. What a show! Almost as good as being in Paris itself. And the raffles during the evening were equally impressive – including quite a few bottles of French champagne. What a climax for a Convention!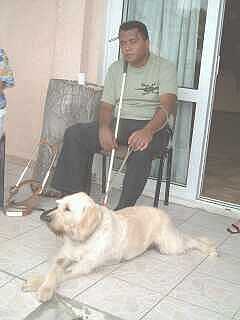 Sunday too had more special events. First stop was the Retirement village at La Foa, north of Nouméa, which was started and continues to be run by Kiwanis. We were shown around some of the units and also had a chance to see Shine, the first guide dog for the blind in New Caledonia. This has been a recent project carried out by Division 6 and to see the smile on José's face as he spoke of the thrill of being able to become more mobile with Shine was yet another example of what Kiwanis is about!!!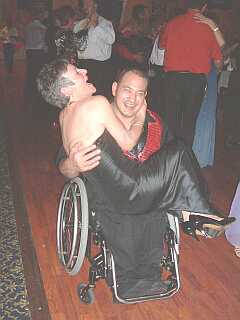 Talking of special smiles – no account of this Convention would be complete without reference to Willie of Tokoroa Kiwanis Club. Taupo club, through a fundraising project, assisted Willie McClutchie (and his wheelchair) to attend the convention. Willie joined into every part of convention – especially the dancing at the Ball, and his presence was made even more special when he told the assembled delegates at one session that he had, in earlier years, been able to attend a scout jamboree in Japan, thanks to sponsorship from the Gisborne Kiwanis club amongst others. Now Willie is in Kiwanis and is about to take off as President of the Tokoroa Club!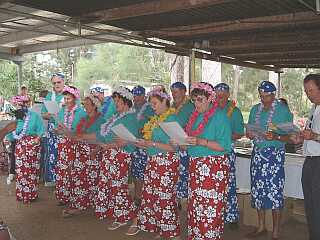 After the visit to La Foa, it was off to Sud Ouest club's rural meeting place at Boulouparis, where we were entertained to a wonderful BBQ of prawns and venison, plus salads and scrummy French bread, of course. Westside Hamilton club, at convention in great numbers (14, I believe), decided to entertain with some songs,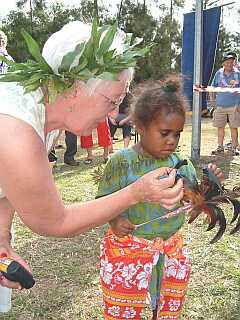 and we saw our incoming Governor's wife Isabella making friends with the little granddaughter of one of the Nouméa Club's members – after all, children are what Kiwanis is all about.
All too soon the Convention as such was over but that left time for some full-on sightseeing: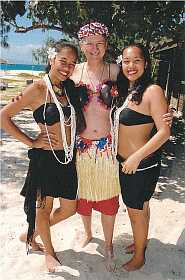 - to Amédée lighthouse, for Tahitian dancing lessons!!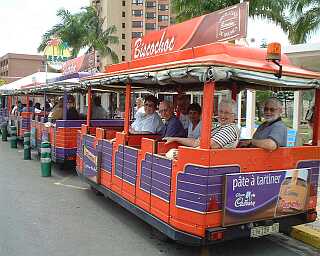 - for rides on the 'little train'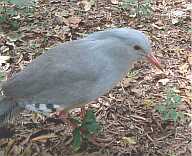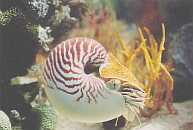 - to the zoo to see the Cagou, or the aquarium to see the Nautilus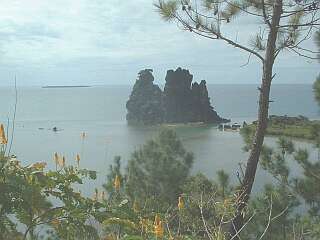 - for exploring further afield in New Caledonia
...and for enjoying some of that wonderful New Caledonian hospitality.
Links
---
Page created on 16 October, 2004 by Ed Murphy, Kiwanis Club of Te Awamutu
Page last updated by webmaster@kiwanis.org.nz (David Fentress) on 4 August, 2008.
Your comments, questions and suggestions are welcome.