2004 District Convention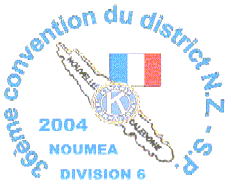 ---
Content:
The 2004 district convention was held on 2-4 September, 2004, in Nouméa, New Caledonia. The convention was hosted by the Kiwanis Clubs of Division 6.

Cette page n'est pas disponible en français.

Nouméa and New Caledonia:
New Caledonia in Melanesia is an oasis in the South Pacific, a land of contrast, splendour and excitement. Whether you are wanting unspoilt, deserted beaches, the bright lights of nightclubs and casinos or cuisine unlike any you have experienced, you will find it all here. For ideas about the attractions of Nouméa, check out this link: Pacific Island Travel Nouméa.

Other links with information about Nouméa and/or New Caledonia:
Venue
The convention was held at The Park Hotel - Nouméa.
The Park hotel is ideally located at Anse Vata Beach, approximately five kilometres from central Nouméa. Anse Vata is a lively area offering a beautiful white sand beach, a variety of boutiques, restaurants, bars and nightclubs.
 
All workshops, trustees meetings and social events were held at the Park Hotel for ease of all participants attending. Accommodation was arranged at reasonable rates at the hotel as well as the nearby and associated appartment-hotel Casa del Sole.
 
Click here to view a map showing the location of the hotels.

Accommodation and Travel (from Auckland) Arrangements:
By special negotiation with the official travel agent (Air New Zeland, Napier office) and the main convention hotel (The Park Hotel), a variety of 7-day or 10-day travel and accommodation packages were available from NZ$1,397 plus tax per person to NZ$3,951 plus tax per person. These packages included accomodation (twin-share or single), transfers between airport and hotel and return airfares.

Convention Fees:
The full registration fee was NZ$420 per person for members and the same rate for partners. This includes participation at all social events plus morning and afternoon teas, Friday and Saturday luncheons, workshops and associated activities including the partners program for registered partners.

Convention Chairman was Robert Lecocq
Convention registration secretary for New Zealand was Clinton Green

Club Reports on the 2004 Convention:

A selection of individual Kiwanis club reports on the 2004 district convention.
---
Page last updated by
webmaster@kiwanis.org.nz (David Fentress)
on 2 September, 2005.
Your comments, questions and suggestions are welcome.