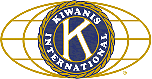 The Kiwanis Club of Taupo, New Zealand
"Serving the children of the World"
Welcome to the Kiwanis Club of Taupo. The Taupo Club was first formed in 1971 so is a well established Club, currently with around 11 members. Choosing to join Kiwanis will allow you to actively participate in Club meetings and activities. Kiwanis is a global organisation of volunteers dedicated to changing the world one child and one community at a time.
We meet on the 2nd and 4th Thursday of each month at the Taupo Cosmopolitan Club, Taniwha St, Taupo. Fellowship begins at 6.00pm followed by Dinner at 6.30pm. Interesting guest speakers are invited to speak on a variety of topics, followed by a short business meeting.
Taupo is blessed with World Class natural assets and a prime central location, and has therefore become known as the Event Capital of New Zealand. This results in the Kiwanis Club of Taupo having many opportunities to volunteer their help and in return being rewarded with funds which then go directly back into the Community.
Key Events for The Taupo Kiwanis Club are:
Lake Taupo Cycle Challenge. For many years the Taupo Kiwanis have marshalled for this event. Our members have almost taken ownership and have their favourite spots.
Kiwanis Teddy Bears Picnic. A truly rewarding experience when we give the Children of Taupo a day to remember. Entertainment is provided, spot prizes given and members and parents and children can dress up in theme.
Kiwanis Run/Walk for Fun. This event has just celebrated 30years. Individuals, teams, schools all pay to participate, they are transported by Kiwanis out to Acacia Bay and then walk or run back into Town. St John and another chosen charity benefit from this event. A very popular project.
How you fit in:
Kiwanis is like a Jigsaw Puzzle, where all the pieces are designed to fit together.
Clubs: you are a member, where policies, club projects, fun and fellowship are handled on a local level by a Board of Directors, which every member has the opportunity to be part of.
Division 9 – Four clubs in this division, Taupo, Roto Whenua, Whakatane and Napier. A Division 9 project gives you the opportunity to work with other clubs on a specific project and with inter-club meetings you gain an insight on how other clubs operate and enjoy a wider fellowship.
Disticts: Kiwanis International has more than 50 Districts located around the Globe. Division Nine is part of the New Zealand - South Pacific District. The volunteer power of all Clubs working together organising and maintaining important ongoing services is our aim and objective.
Kiwanis International: The International Office is a resource. Through the Kiwanis magazine and the 'Member' section of our Web site http://www.kiwanis.org/. Kiwanis International serves as a clearinghouse for some of the most exciting and rewarding projects happening around the globe and in our community.
Kiwanis International has a global campaign (ELIMINATE) in conjuction with UNICEF which aims to wipe out maternal and neonatal tetanus in a band of equatorial countries. Tetanus spores are present in the soil and may enter the body as a result of unhygenic birth practices. The spores cause the release of a nerve toxin which results in extreme muscle spasms and death. Vaccination to prevent this costs just NZ$2.20 for each woman and child.
For more detail visit the Web site, or for personal contact Rex Crenfeldt Ph: 07 378 6204 or 027 210 4909 and a club member will be able to assist you.
The NZ/South Pacific District website is at http://kiwanisnzsp.org/
Page last updated 01 January 2016.