Kiwanis International - NZ-SP Division One (Auckland and Vanuatu)
South Pacific Islands
Schools Assistance
---
Watch a video of the Vanuatu Schools Assistance project on Youtube at :
    Vanuatu Schools Assistance project
---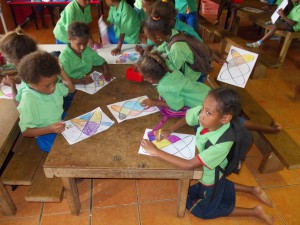 Helping children reach out to their dreams and achieve their goals is a large part of what Kiwanis does. One project that epitomises this goal is the South Pacific Schools Assistance project, involving Kiwanians in New Zealand, French Polynesia, New Caledonia, Vanuatu and Fiji.
 
For many years Kiwanis NZ-SP District has been sending unused school desks, chairs and teacher resources, secondhand books, school uniforms, clothing and other items to help the schools in Vanuatu. These dispatches have been mainly from the Kiwanis clubs in New Zealand with contributions from New Caledonia and French Polynesian clubs when suitable shipping can be arranged. The goods are packed into 20 or 40 foot containers and shipped to Port Vila for distribution to schools and children.
On arrival in Port Vila the containers are unpacked by the Kiwanis Club of Port Vila and distributed to where the need is greatest.
 
The project began in the early 1990's when the Napier Kiwanis club had a sizeable collection of books to distribute to children who would benefit from them. On many of the islands of Vanuatu school children have to sit on the concrete floor of an open building because they do not have desks, chairs or even school books to work with.

The first load of books was trucked north to Auckland from Napier, stopping en-route to collect books from the Taupo Kiwanis Club.  Past Governor Ewan Beck who took on the role of project co-ordinator, made space available at his South Auckland premises which was used for many years as the collection depot.
 
On arrival in Auckland the books were packed onto pallets donated by Vodafone, and shipped to Port Vila by Sofrana Shipping.  At the recipient end the Kiwanis Club of Port Vila unpacked the container and distributed the donated goods to schools and families around the islands of Vanuatu.
 
It was not long before books and other items were being collected by Kiwanis clubs around the country. At the destination end Kiwanians in Port Vila continued to coordinate the distribution of everything their New Zealand counterparts collected – from treadle sewing machines to used computers and everything in between.
 
These were initially dispatched in relatively small shipments, at no cost for freight thanks to Sofrana Uni Lines.  Over the years the range of goods collected has been widened, following information and specific requests from the Kiwanis Club of Port Vila.  Recipient schools began asking when more resources could be expected!
 
As the project grew the donated goods were shipped by container.  Various firms including Sofrana Uni Lines, PDL Shipping and United Carriers have assisted with funding from time to time.  Kiwanis clubs have always contributed to the cost of shipping – as well as expending considerable time and effort collecting and packing the many items for Vanuatu school children.  Their resources are often severely stretched due to other projects in their local communities, which means that Kiwanis is always seeking alternative ways to cover shipping costs.
 
Despite funding issues containers have been sent on an average of twice yearly since that time.  The Kiwanis Club of Port Vila tells us the need is ongoing as they have hardly scratched the surface.
 
The project was expanded to include Fiji following Cyclone Winston.  A container load of essential items was shipped from New Zealand and the newly formed club in Suva was able to distribute goods to villages affected by the cyclone.
Any assistance given towards the shipping costs of the current and future containers to the islands, or ideas for alternative methods of transport, is really appreciated as the Kiwanis Clubs of New Zealand are committed to "Serving the children of the World" – and are really keen to continue to help the school children of Vanuatu.
---
Kiwanis NZSP Division One home page / New Zealand - South Pacific District home page
---
Page last updated by webmaster@kiwanis.org.nz (David Fentress) on 21 October, 2021.
Your comments, questions and suggestions are welcome.