Saturday, 25 May, 2012, started in the Auckland area with fairly thick fog, so those Kiwanians who hadn't helped with a container packing day before wondered just where they were going as they made their way to Mike and Megan Allan's avocado orchard where we are lucky enough to store all the goodies for Vanuatu in between container packing days.
 
But, once work started in earnest, spirits (and the fog) soon lifted and everyone joined in to get the job done as quickly as possible.  The range of items to be packed was as varied as ever - including many school desks and chairs, books for preschool, primary and secondary children, school stationery, sports equipment, and teachers classroom resource.  The range of clubs represented by those packing, 30 people in total, - and those who had provided the goodies - was every bit as widespread (Waiau Pa, Takapuna, Papaura, Auckland, Papatoetoe, Pakuranga, Mount Roskill, Matamata, Drury, Morrinsville, Napier, Taupo, Manukau, Mooréa, Huahine, Papatoetoe Key club and even a non-kiwanian visitor from Otaki) and the fellowship was really great.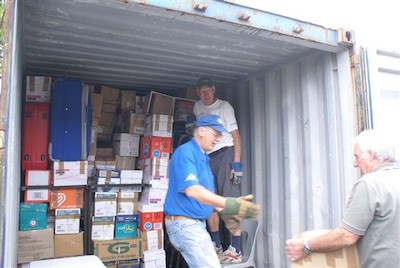 Loading books in the container.
As always with Kiwanis projects, food too was part of the day, with excellent morning tea and lunch being provided at a very small cost for all the workers by the Waiau Pa and Drury clubs.
 
All in all a great example of the fun and team work that Kiwanis is so well known for when it decides to get its back into a really worthwhile project.  This project of course has been ongoing for a good few years - and is likely to continue for w good while yet.
 
Thanks to everyone involved - the folks who sourced and collected goodies, those who sorted, packed and listed the items, those who delivered them to Waiau Pa, those who organised booking the container and getting it fumigated, etc., those who cooked for the packers, the packers themselves - in fact everyone who was part of this project.  We must not forget the clubs either who support the project financially by giving to District Projects each year.
 
As we have said before - we are making a difference to the children in Vanuatu !!