Kiwanis International - NZSP Division One (Auckland and Vanuatu)
Books for Vanuatu schools
The 2008 shipment of book to the school children of Vanuatu
Text and photographs by Patsy Hill - Kiwanis Club of Takapuna.
---
Saturday, 26 April, 2008, saw an enthusiastic group of 17 Kiwanians from 6 clubs around Auckland and the Waikato [namely Auckland, Takapuna, Pakuranga, Papakura, Matamata and Papatoetoe] converge on Ewan Beck's work premises in South Auckland to document and pack yet another container load of goodies to be shipped up to Vanuatu.  A good supply of books, school desks and chairs, used clothing, computers and other items had been gathered up by Kiwanis clubs and other supporters around the country over the last 6 months or so. In fact it really is so encouraging to see that people are reading our website stories of this project and making contact offering to help – like a librarian at the Practical Education Institute down in New Plymouth who organized a local group down there to collect, pack and ship 30 boxes up to Ewan – because they wanted to see the books sent somewhere to be used to help children!
 
It was pretty amazing too that the weather forecasts all week had promised heavy rain and stormy conditions generally – but the packing was achieved before any rain eventuated. Someone must have been looking after us working on this project once again!
 


Loading books in the container - note the Kiwanis labels put on all boxes.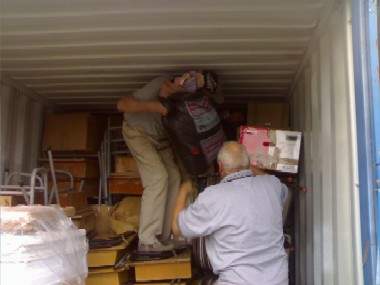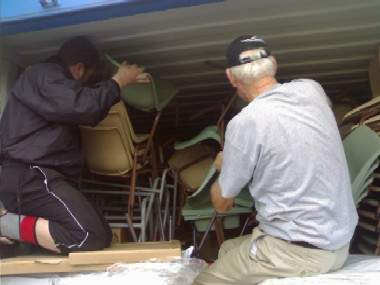 Thanks to all who collected books etc., transported them or helped in any way with this shipment. The Kiwanis club of Port Vila provided the funding for the shipping costs.  A really good example of Kiwanis teamwork in progress in order to 'Serve the Children of the World'.

 

Kiwanis NZSP Division One home page / New Zealand - South Pacific District home page
---
Page last updated by
webmaster@kiwanis.org.nz (David Fentress)
on 13 June, 2012.
Your comments, questions and suggestions are welcome.