Kiwanis Comes Up with the Goods Yet Again !!!!!
[And Entertains the Kiwanis International President]
Cette page n'est pas encore disponible en français.
---
A New Zealand South Pacific District Project
Text and photos by Patsy Hill (unless otherwise attributed)
Once again, the New Zealand-South Pacific District has acted as a fairy godmother through its 'Kiwanis Targeting Burns' project by providing yet another valuable piece of equipment to the Kidz First Hospital Burns Unit.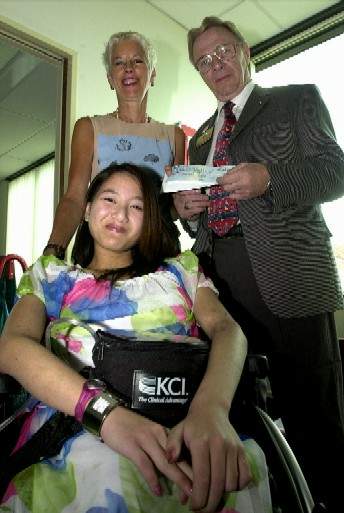 International President Case with Pam Tregonning and Nikki. Photo courtesy of the Manukau Courier.

On Tuesday 15th March, as part of an unofficial visit to New Zealand, the International President of Kiwanis International, Case Van Kleef and his wife Susan, joined District Governor Ewan Beck, KTB/Serving the Children District Chair Gay McNamara, and PR District Chair Patsy Hill at KidzFirst Hospital.
 
It was time to make a donation of a further cheque, this time to enable the KidsFirst Burns Unit to purchase a 'Mini-portable Vacuum machine', and on this occasion, our International President did the honours, presenting the cheque for $11,850.00 to South Auckland Health Foundation Executive Director Pam Tregonning. What made this presentation so memorable was that we were joined by a young patient Nikki. Tuesday was in fact Nikki's 16th birthday and the hospital was giving her a birthday party later in the afternoon, but Nikki was very happy to come along to meet us all as she is currently using one of the machines that KTB has provided – the Portable Vacuum Machine donated in July last year.
 
Governor Ewan was keen that Case get an opportunity to learn about KTB firsthand from the hospital and this was achieved by anaesthetist Francois Stapelburg joining the group in one of the burns treatment rooms and explaining the use of the mobile anaesthesia delivery units, and the other pieces of equipment that Kiwanis have donated through KTB.
 

International President Case (L)listens to the information given by anaesthetist Dr. Francois Stapleburg about the mobile anaesthesia delivery machine - shown in the photo.

Our District, through the KTB Project, has now donated five machines since the project started in 2001. These are:-
| | |
| --- | --- |
|  ·  | 2 mobile anaesthesia delivery machines [costing NZ$116,357.33 and NZ$143,115.00 – variation due to exchange rate] |
|  ·  | 1 Portable Vacuum Machine [costing NZ$12,080.70] |
|  ·  | 1 Passive Motion Machine [costing NZ$8,129.00 and now |
|  ·  | 1 Mini-portable Vacuum Machine [costing NZ$11,850.00] |

 
The three smaller machines are all used to assist in the healing of skin grafts. The total amount of money for these five machines [NZ$291,532.03], together with the amount raised last year by Kiwanis through the bucket collection [approx. NZ$9,000.00] is an amazing total –
And if we manage to sell our allotted Scratch and Win tickets between 21 March and 1 May 2005 which would total NZ$120,000.00 we will have raised and donated approximately NZ$400,000.00 in 4 years. Isn't that an incredible amount !!! It just shows what Kiwanis can do to 'Serve the Children of the World'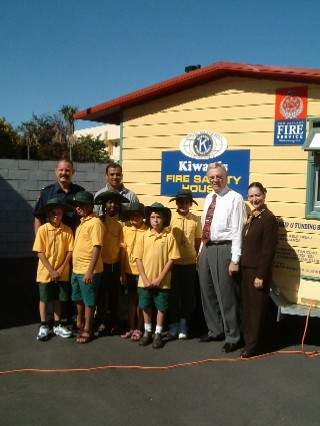 International President Case and his wife Susan with the Fire Education Officer and the pupils and their teacher who participated in the demonstration.

Prior to visiting Kidz First Hospital, the International President was also shown another project – one closely linked to 'Kiwanis Targeting Burns' – the 'Fire Safety House' that the Kiwanis Club of Papatoetoe provided to the New Zealand Fire Service. At the Papatoetoe Fire Station, Case and Susan, along with Governor Ewan, Gay McNamara, Patsy Hill, Lt. Governor John Bell and Papatoetoe member Joyce Young [who, along with her husband Dave, was largely responsible for initiating the 'Fire Safety House' project] were given a demonstration of its educational value as a group of primary school children were taken through the steps to follow to evacuate a burning house.
 
President Case and Susan also enjoyed a BBQ with the members of the Takapuna Club at the home of their President [and Past Governor] Tony Popplewell and met many NZ-SP Kiwanians at special functions in Hamilton and Drury, where he was able to induct a number of new members into various clubs.
 
Quite a busy schedule given that they only arrived in Auckland on Sunday evening and left again on Tuesday evening !!!!!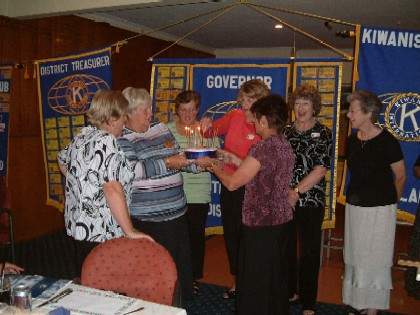 Mention should also be made of the fact that the function held at Drury coincided with the 15th birthday of the Drury club – and needless to say a birthday cake was a special feature.


 
Kiwanis KTB project page / New Zealand - South Pacific District home page
---
Page last updated by
webmaster@kiwanis.org.nz (David Fentress)
on 30 March, 2004.
Your comments, questions and suggestions are welcome.