2010 District Convention
---
Content: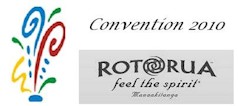 This page contains information about our 2010 district convention which was held on the 3rd and 4th of September, 2010 in Rotorua, New Zealand. The convention was hosted by the Kiwanis Club of Roto Whenua.

Cette page n'est pas disponible en français.

About the Venue and Accommodation:
The convention was held at The Sudima Hotel.
The Sudima Hotel Lake Rotorua, 1000 Eruera Street, Rotorua, is the largest hotel in the area and enjoys a location that is second-to-none. It is set on the shores of beautiful Lake Rotorua, adjacent to the world famous Polynesian Spa complex and just a short stroll to all the attractions in Rotorua's vibrant city center, Convention Centre and Energy Event Centre.

Accommodation was available at the convention venue at a special rate.
---
Convention Theme:    

Feel the Spirit!
Rotorua is New Zealand's premier tourist destination:

 
Rotorua is world-renowned for its natural attractions. Experience soothing mud pools, shooting geysers and relax in the thermal pools located around the city. There are peaceful bush walks, and your regular thrill-seeking attractions.
Links with information about Rotorua:
Registration Fees:
The full registration fee for all Kiwanis members or partners or guests was NZ$250. This included convention sessions, meals, Friday and Saturday evening functions). The full registration fee for partners included the partners program on the Friday. A reduced early bird Registration fee was available for all adults attending the convention if paid by 31 May, 2010. A partial registration fee of NZ$175.00 was available to those interested in attending either Friday (including the evening function) or Saturday (including the evening function). The partners program on Friday is included as part of the partial registration fee for the Friday. For those visitors wanting to attend Saturday evening event only, the cost was $95.00 per person.
Convention Organizers:

    Mike Boyd
    2010 district convention chairman

    Christine McMillan
    2010 district convention secretary

The Kiwanis Club of Roto Whenua did a splendid job of providing the district Kiwanians and their partners at the convention with an entertaining and fun experience.
---
Page last updated by
webmaster@kiwanis.org.nz (David Fentress)
on 3 May, 2014.
Your comments, questions and suggestions are welcome.