2006 District Convention
---
Content: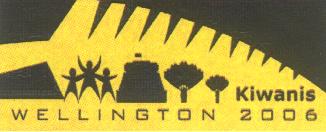 This page contains information about our 2006 district convention, held 8-9 September, 2006, at the Just Hotel and the St. John Parish Hall, both on upper Willis Street in Wellington on the North Island of New Zealand. The convention was hosted by the Kiwanis Club of Wellington.

Cette page n'est pas disponible en français.

About the venue:
The convention was held at The Just Hotel, 166 Willis Street, in the heart of Wellington. The facilities of the St. John Parish Hall, also on Willis Street were also used for certain functions.
---
Convention Theme:      Absolutely Capital!
Wellington and the Wellington region:
Wellington is the political heart of New Zealand. The capital's compact size makes it an easy place to explore, yet its cosmopolitan flavor offers all the sophistication of a big city. Known as New Zealand's Cultural Capital, Wellington is a stronghold for the arts and home to the Royal New Zealand Ballet and New Zealand Symphony Orchestra. For ideas about the attractions of Wellington, check out this link:
Other links with information about Wellington:
Accommodation Arrangements:  Accommodation was available at the Just and Mercure Hotels.
Fees:
The full registration fee was NZ$250 per person for members and the same rate for partners.
The registration fee included participation at all social events plus morning teas, Friday and Saturday luncheons, workshops and associated activities including the partners program for registered partners.
Partial registrations were not available.
John Warriner was 2006 district convention chairman.
---
Page last updated by webmaster@kiwanis.org.nz (David Fentress) on 4 August, 2008.
Your comments, questions and suggestions are welcome.