New Zealand - South Pacific District of Kiwanis International
2000 District Convention Information Page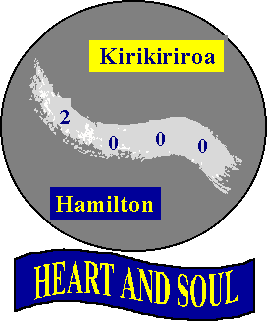 ---
Content:
This page contains information about the 2000 district convention, held 25-26 August, 2000 in Hamilton on the North Island of New Zealand in the Waikato region - home of the Ranfurley Shield. The convention was hosted by the Kiwanis Club of Kirikiriroa.

Cette page est aussi disponible en français.


 
About the venue:
The convention was held at the Quality Hotel and Conference Center in Te Rapa, Hamilton.

All workshops, trustees meetings and social events were held at the Quality Hotel for ease of all participants attending. Accommodation was arranged at the hotel.
Convention Theme:     Heart and Soul
Hamilton is the Heart of the Waikato:
The Waikato encompasses some of the best agricultural land in New Zealand. The area is a major producer of milk, meat, race horses and winning rugby teams.
Convention Program
Program - Preconvention - Thursday, 24 August, 2000

10:00-12:00 - District Foundation Trust meeting
13:30-16:00 - 1999/2000 district trustees meeting
19:00 - dinner for past governors

Program - Day 1 - Friday, 25 August, 2000

07:30 onwards - registration desk open
08:45 - Maori welcome
09:00-12:00 - Keynote speaker and business session
12:00-13:15 lunch
13:15-16:45 - business sessions and workshops
18:00-18:45 1999/2000 Awards presentations
18:45-19:30 pre-diner drinks
19:30-24:00 diner and entertainment - theme night - "Song Titles".

Program - Day 2 - Saturday, 26 August, 2000

07:15-? Past lt. governors breakfast meeting
07:15-? Kiwaniannes breakfast meeting
09:00-12:00 Business sessions and workshops
12:00-13:15 lunch
13:30-15:00 business session and closing
15:00-17:00 2000/2001 district trustees meeting
18:00-18:45 1999/2000 Governor's cocktails
18:00-19:00 pre-diner drinks
19:00-19:30 Introduction of 2000/2001 team
19:30-24:00 Diner and entertainment

Program - Postconvention - Sunday, 27 August, 2000

09:15 Thanksgiving service
11:30 Farewell barbeque brunch
Partners Program
Friday, 25 August, 2000

Visit to a thoroughbred stud, lunch at a rural hotel, crafts and antiques.

Saturday, 26 August, 2000

Fashion parade.
Accommodation Arrangements:
A room at the Quality Hotel (the convention venue) cost NZ$95 per night per room including tax regardless of occupancy.

Fees:
The full registration fee of NZ$205 per person included participation at all social events plus morning and afternoon teas, Friday and Saturday luncheons, workshops and associated activities including the partners program for registered partners. Children under the age of 12 did not need to register.

Partial registrations were available for NZ$125 per person per day. The partial registration included ALL activities offered on the day.

"The Heart and Soul of Kiwanis was be found in Hamilton in August 2000"
---
Page last updated by
webmaster@kiwanis.org.nz (David Fentress)
on 4 August, 2008.
Your comments, questions and suggestions are welcome.